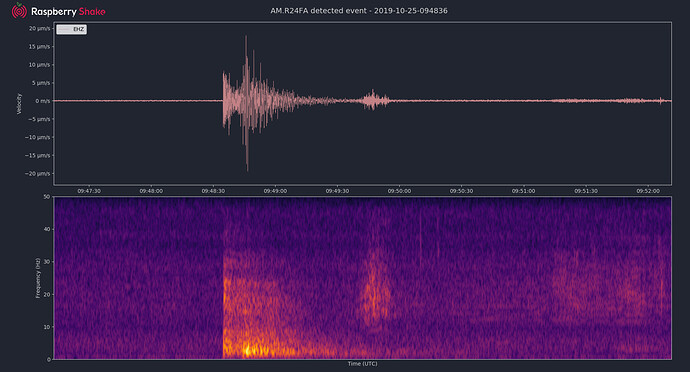 Some of you may know that I've been working on a piece of software that can ingest, live-plot, and process Raspberry Shake UDP data casts. Today we are quite excited and proud to officially release
rsudp
to the community!
Before we get into installation, check out a replay of rsudp detecting a M 4.3 earthquake 80 km away on a Raspberry Shake and Boom, which was pulled from our livestream:

Installation
First of all, the software lives at https://github.com/raspishake/rsudp. First-time installation instructions are here: https://github.com/raspishake/rsudp#installation, and I also give a tutorial in the video below. When using the UNIX installer script, please make sure to read and follow the directions in the prompts.
Installation tutorial
Setting up a UDP data cast / UDP stream
Before you run this software, you will need to point a Raspberry Shake UDP stream at the machine you will run this software on. For that, you will need to find the IP address and port of your computer, and enter those values into the UDP Streams tab of the Config page on your Shake's web front-end. Press the plus button and then press SAVE. This is what that looks like on v.15, the current version of the Shake software: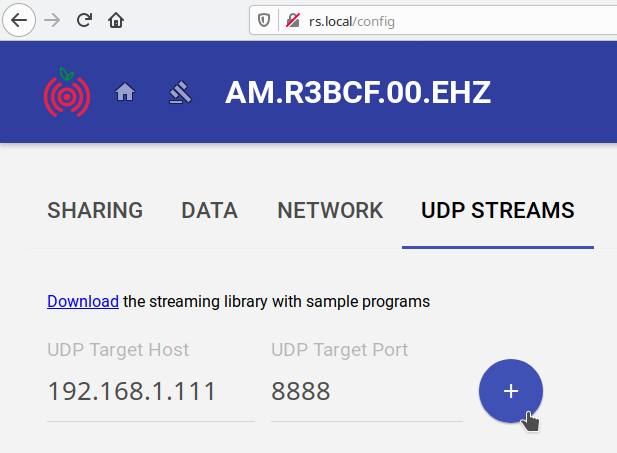 Setting up and running rsudp
Before running the software, you may need to edit the settings file that is created during installation. To do so on Linux or Mac OS, execute the following command in a terminal window:
nano ~/.config/rsudp/rsudp_settings.json

On Windows, open ~/.config/rsudp/rsudp_settings.json with your favorite editor, and edit the values to your liking.
I explain the behavior of most of the settings values in the following video tutorial, but they are also explained in the Modules section of the README: https://github.com/raspishake/rsudp#modules
Setup and run tutorial
Note: Mac OS and Linux users can also start rsudp using the bash script unix-start-rsudp.sh, i.e.:
bash unix-start-rsudp.sh

Streaming
The next YouTube video in this series (coming soon) will describe the process of setting up a live video stream from a computer to YouTube using the fantastic Open Broadcaster Software (OBS) project (which, unfortunately, doesn't work on Raspberry Pi yet).
Our example livestream is here: https://youtube.com/c/RaspberryShake/live
It's also simulcast on Twitch.tv/raspishake.
Issues
If you encounter problems, please post questions to the forum or create a new GitHub issue at https://github.com/raspishake/rsudp/issues/new. Please describe the problem clearly and concisely, and as always, include the log files from your Shake's web front end.
Issues will almost certainly arise if you are trying to send a UDP stream through a firewall (from a remote location to a home router or university network, for example). This is possible but you will either need to talk to your network administrator or Internet Service Provider, or read the instructions on how to set up external-to-internal Port Forwarding on your home router. Like during the Shake setup, it's best to try using this on a local home network first, where there are unlikely to be firewalls between you and the Shake.
Contributing
This software is open-source and we welcome contributions from the community! Have an idea for a Twitter bot that posts when the alarm is triggered? Want to write a module that turns on a GPIO pin during an alarm? If you can improve rsudp we would love to hear from you!
Final thoughts
I think that's it for now. Check it out, play around with it, let us know what you think, and be sure to post images of earthquakes by setting "eq_screenshots": true, in your settings file!