How do I properly shutdown to restart the Raspberry Shake? I think I may need to restart it? For some reason it seems that I'm not picking up earthquakes anymore. Recent events in which I should have received, I have nothing. At this time I no longer have a laptop connect to my shake, but I hope to get a new laptop soon so that I can again utilize SWARM and jAmaSeis.
So, I am only relying on the ShakeNet app which appears to be indicating problems as well. The shake appears to be frequently timing out and I am receiving a lot of sharp spikes (see attached image) and some are quite huge. The one in the image is probably medium size compared to other ones.
As well as the image, I am providing log file to you…thank you.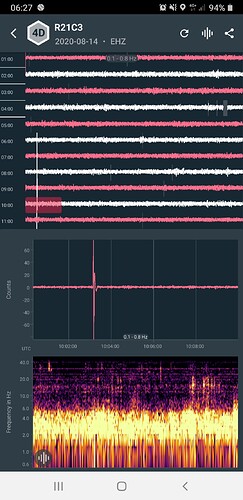 RSH.R21C3.2020-08-13T23_29_16.logs.tar
(3.7 MB)