Hi everyone!
I am trying to check some signal processing routines that I mainly use to analyze seismic noise, attempting to use the RShake as low-cost approach.
I tried to quantify the RShake 1D self-noise at home, i.e. I disconnected the geophone from the board.
Then, I acquired 20 minutes of data (velocity stream) at the office. I downloaded the data in .miniseed, but I also performed a PSD (Welch's method from scipy module).
I removed the instrument response using the lsb value given in the datasheet, and I filtered the stream btw 0.1 and 50Hz (I know I should remove the instrument response in a clean way, but this is only for quick tests).
I tried to plot all those spectral estimates on the same figure. I got the one attached (SELFNOISE).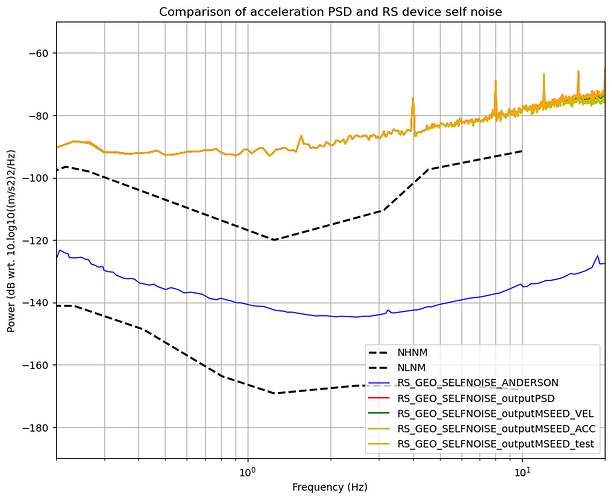 I am quite surprised as the selfnoise PSD that I computed are way above the selfnoise curve given by Anderson (about +50dB).
I also get some spurious peaks at 30Hz and above, but my office may be very noisy in terms of EM emissions.
I must have done something wrong, but I don't get what… any help would be very much appreciated!
Best regards,
Pierre
PS: I also carried on some measurements on a high tower in my city (attached figure VERCORS). I clearly measured the building's fundamental frequency, but thing become messy at higher frequency…