New to the brilliant Raspberry Shake initiative & hoping to become a part of it with the purchase of a RS&Boom kit sometime soon.
Have installed the ShakeNet app but curious to know what the red countdown timers mean (top right side) that turn to a grey negative number before eventually disappearing? It's probably explained somewhere but I haven't found that yet.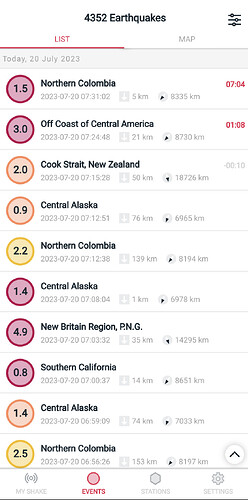 Example:
1.5 (red circle). Northern Colombia. 2023-07-20 07:31:02. 5 km. 8335 km. 07:04.
For this I take it:
the red circle** means the earthquake (EQ) depth is less than or equal to 50 km.
Northern Colombia, area where the earthquake took place.
1.5 is the magnitude.
date and time is date and time it occurred (think that's my local time rather than UTC).
5 km is the actual depth of the earthquake?
8335 km is the distance away from my current (app estimated) geographical location? in a south-west direction?
red 07:04, unsure?
**info derived from "EQ Depth & Magnitude" key at bottom of https://stationview.raspberryshake.org
Also how often is the products range refreshed? If something new is about to come out am happy to wait a little longer as it's not possibly to get a Raspberry Pi 4 Model B from thepihut here in the UK at the moment anyway.
Thanks in advance.