Since July 26th 2022, I have been experiencing an issue with downloading the last 24hr of data (MSeed format) from not only Raspberry Shakes that I have set up, but other Shakes on the StationView as well. Clicking the download option sends me an error page as follows: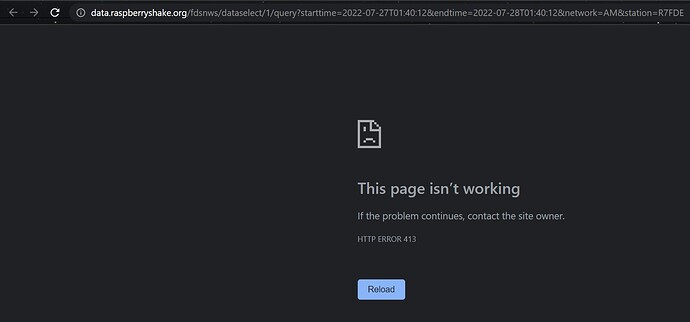 The Raspberry Shake that we have set up and are trying to receive the MSeed data from are AM.R36F4 and AM.R357C. AM.R36F4 is connected to a school network, and AM.R357C is connected to a home network. Both are connected by Ethernet connection.
I wanted to know if there may be a reason why I have started to get this error page, as I have been able to obtain data before using this method. Also, if there is a solution to this problem, it would be greatly appreciated if that could be shared.
P.S. I found that by using a different browser other than Chrome, I was able to download the MSeed data. However, it would still be greatly appreciated to know why Chrome no longer works for me.