On 7/30/2020 I got a email message "We have not seen your Raspberry Shake AM.R3BFD on stationView (https://stationview.raspberryshake.org/) in 3 or more days."
So I go down into my basement corner to find my shake has power from the UPS but the ethernet port (#16) on Netgear switch has no lights showing on the plugged in port (#16). I unplug my shake, wait 5 minutes, plug back in. Still no Ethernet lights for that port #16. Other ports are working. I plug into another free Ethernet port (#7)and the lights start blinking. I think problem solved…
I wait a day and still my shake is not showing on the Shaker net.
I then internally ping my assigned static port ending in .13 and it pings okay.
I then try "http://rs.local" and nothing comes up.
I unplug my Shake, put on a table and hook up monitor and mouse.
I watch it boot up., Seems to boot fine but after it gets to the Login and waits a few minutes I start seeing the attached errors start to accumulate.
.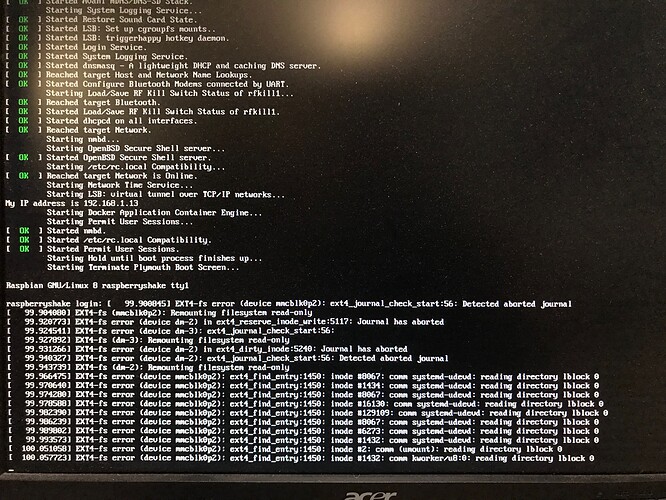 I am presuming the original 8GB boot/memory card from the fully built 2016 Kickstarter unit has failed…
I presume I need make a new boot card from a new 32 Gb card as 8 Gb cards are not on any shelves around here.
Would that be Technical supports take on this ?
Thanks,
Tom