Hi all,
I am implementing a simple ObsPy based processing pipeline that works either from miniseed data files or the shake directly using the easyseedlink class. The goal is to measure building sway using the MEMS sensors in my RS4D located on the 50th floor of a 54 storey building. I've demonstrated a few days ago using rsudp during high winds that this works fine, but the displacement scale is off by about 6 orders of magnitude. I confirmed with my cat-toy+frying-pan double floor height pendulum that the building sway period was about 3 seconds with amplitudes on order a few cm. rsudp saw the correct period, but amplitudes are reported as up to 25km which clearly is well out of the ballpark…
My first suspicion is with the instrument response file needed to deconvolve the data. As it is generated outside my visibility, I have no idea what goes into this. I've downloaded a copy of the instrument response file yesterday and another copy today from this link https://fdsnws.raspberryshakedata.com/fdsnws/station/1/query?network=AM&station=R8A4D&level=resp
and interestingly those two files are identical with the exception of the "created "timestamp - so they do get updated, but by the looks of it, only the created timestamp.
Q1: Can I somehow force the servers (or my shake, no idea where the coefficients actually are determined) to create the instrument response file from scratch? I find it unlikely that the 9 decimals in every one of the 38 numerator coefficients would be the exact same in different response files that would be created based on different data - yet that's what I see. And when I use remove_response on the data and output displacement, I still get values that are wildly out: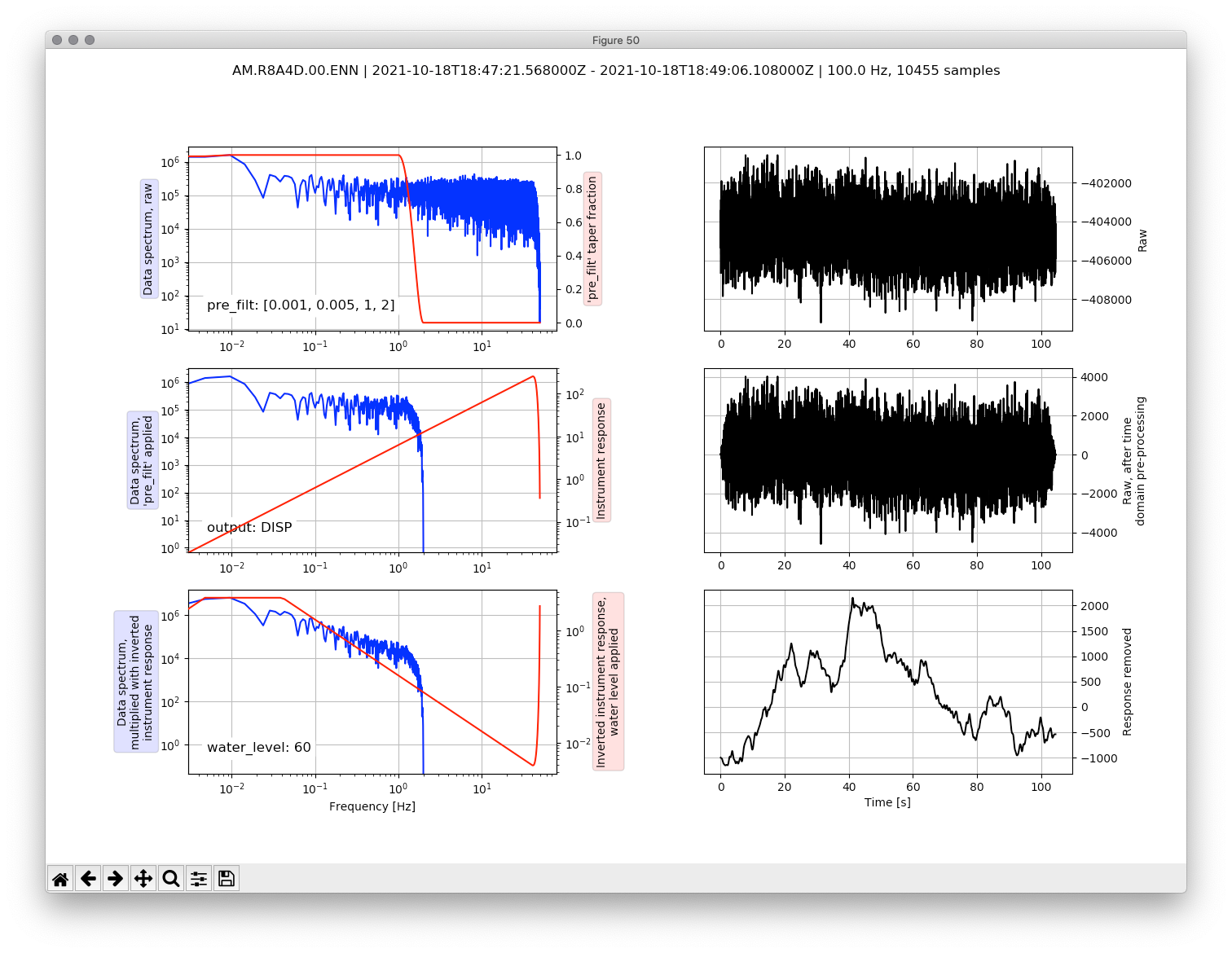 Which leads me to Q2: What are the expected performance specs of the MEMS sensors we have in the RS4D? By attempting to measure building sway that could be on order 0.5 - 0.005 Hz am I trying to do something that is simply going to disappear in the noise floor?
Thanks
Balthasar