I wanted to share this to the community as an FYI is you are having work done on your house/garage and this is close to the vicinity of the work. I had new shingles installed on Wednesday to my house and garage, this caused so many vibrations due to the weight of the shingle bundles being put on the roof and the constant hammering and banging that goes on with a replacement of the shingles. I was curious the next day to see what the shake picked up and only then did I realize the connection issues that happened as a result of this excess.
For context, my shake (RD11A) is on the garage floor (concrete slab) and with weights on it to help couple it to the ground.
Here you can see the crew showed up around 1230 UTC but didn't really start on the garage where the shake is installed until around 1400 UTC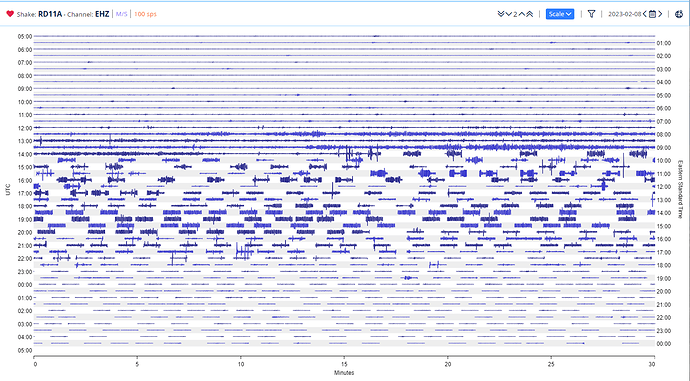 When I noticed the issue, I tried restarting the shake via web interface but that did not solve it. I then shut it down from the interface hoping that would let the device settle and maybe come back to normal, which it did not. I ran a ping test for few minutes to see if it was something with my network but did not get any failed packets for lag spikes. This led me to do one last test, the hard rest at the device. While plugged in and running, I removed the USB power cable and let it sit a minute (I know not the best practice), but after this it came back on and kept a good connection.
You can see when I powered it down via web interface, around 20:00 UTC, and let it sit until I powered it back on around 22:00 UTC, and then when i went to the device and removed the power usb cable around 00:30 UTC.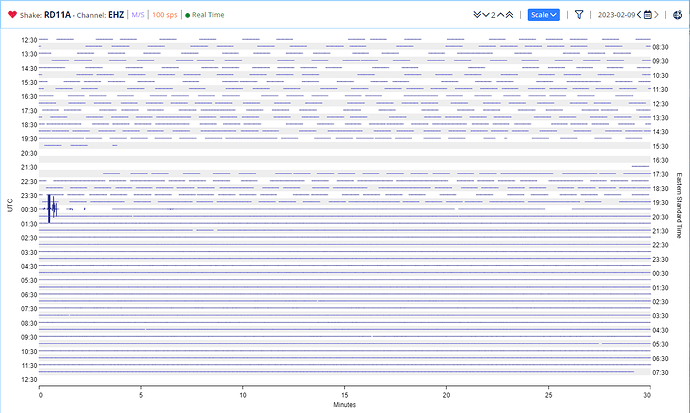 If anyone else has seen anything similar, I would like to hear too and see if this is just a coincidence or if the vibrations actually did play havoc on the shake.