I was looking at an unremarkable quake as seen at my station (RF075) and noticed an interesting, relatively pure note on the spectrum display, starting at 30Hz, and drifting down to near 22Hz: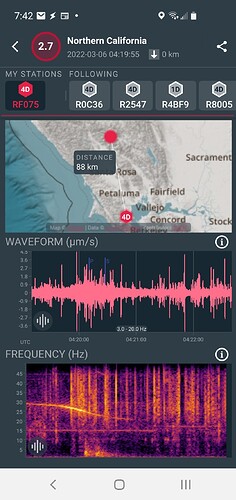 I looked at the same event on my nearest neighboring station (R8005), about four miles away from me, and located in a remote nature preserve, with much less human-caused noise: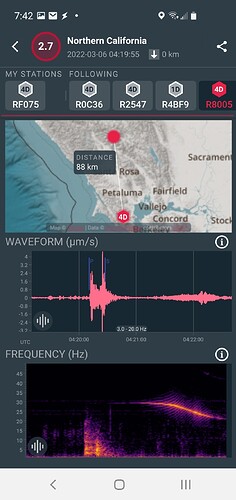 The earthquake is much more clearly visible from the quieter location. The same spectral signature is visible here, but it seems to be around two minutes later at the neighboring station than it was at my house. Four miles in two minutes is around 120 mph, which is a reasonable speed for an aircraft, but too slow for seismic waves. 30Hz to 22Hz is low frequency for a small plane propeller, but perhaps a helicopter? We have frequent Coast Guard overflights.
I think I picked up a helicopter, or maybe a different style of aircraft. Does anyone have another plausible explanation?
Note, both units were Raspberry Shakes, not Booms, so they're not optimized for picking up sounds, but if the sound is loud enough and couples with the ground well enough…