Hi,
I am doing some comparison tests between a Nanometrics Trillium Compacts 20s (with Centaur data logger) and a RaspberryShake 3D (V5). I downloaded the nominal sensor responses from the IRIS NRL and from RS web site (http://manual.raspberryshake.org/) for the former and the latter, respectively.
When I perform the crosscorrelation of data collected by the two sensors placed one next to the other (after Nanometrics data have been deconvolved with Nanometrics nominal response (Centaur+Trillium) and convolved with RS one), I systematically obtain a positive delay of about 0.49 s (RS data are delayed wrt Nanometrics ones). I am wondering what this delay could be due to. When running JEvalResp routine to compute sensor responses for deconvolution/convolution, I obtain the output in the attached image. I think the reported delays are introduced by decimation and anti-alias filtering, but it is not clear to me if the calculated delays are corrected for. By the way, the sum of Nanometrics and RS calculated delays is approximately 0.49 s.
Could anyone give me some help about that?
I also attach the nominal response files that I used.
Thanks very much
Diego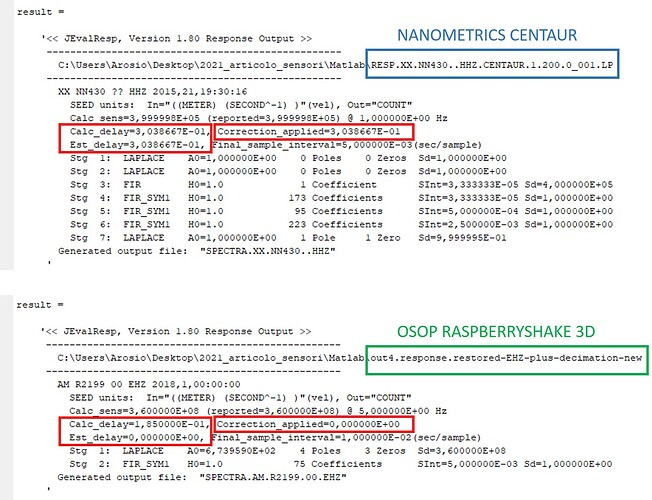 out4.response.restored-EHZ-plus-decimation-new (7.8 KB) RESP.XX.NN430…HHZ.CENTAUR.1.200.0_001.LP (34.2 KB) RESP.XX.NS348…BHZ.TrilliumCompact.20.753 (5.5 KB)