Below is a snippet of Python code that uses the ObsPy library to access, low-pass filter, and display three hours of data from one of my R-Shake devices. The lowpass filter is needed to reduce the traffic noise, but some spike-glitches which happen at irregular times are relatively huge. Ideas?
There are also some gaps with just plain missing data, I assume due to my internet dropping out, but I think that is a separate issue.
from obspy.clients.fdsn import Client
from obspy import UTCDateTime

client = Client(base_url='https://fdsnws.raspberryshakedata.com/')
starttime = UTCDateTime("2019-05-06 21:00:01")
endtime = starttime + 60*60*3
wave1= client.get_waveforms('AM', 'RF7DC', '00', 'SHZ', starttime, endtime)
wave1.filter("lowpass", freq=0.5, corners=4)
wave1.plot(type='dayplot',outfile='190506_21H_f_RF7DC.png')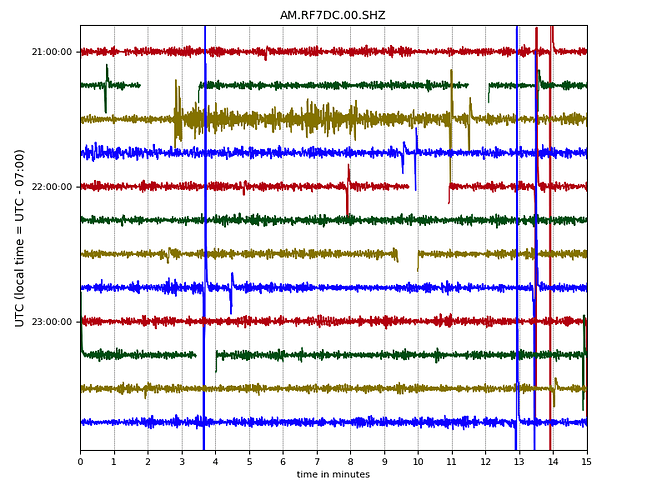 For reference, below is the same dataset without the low-pass filter. The glitches are smaller, but the local road traffic noise (mostly above 5 Hz) is more prominent.