Hi, the other day (April 7th) my raspberry pi appeared to have halted producing any waveform graphs and no longer outputs any data from the geophone. This appeared to have occurred at random (possibly?), and I have not been able to trace back an event to this particular time that leads to this failure.
I have attempted the following general troubleshooting attempts as per some other threads on the forums experiencing a similar issue.
Cleaned out all components of cobwebs, dust, fluff with a soft brush.
Changed power supplies.
Changed the pi 3 board that the shake board attaches to.
Checked the SDCard for corruption (there was none).
Booted the pi 3 board without the addon board attached to the GPIO. No issues.
Attached are the logs from the device, the archive is gzipped from the tar.
RSH.RD4B6.2021-04-09T04_02_08.logs.tar.gz (290.8 KB)
Please note that the domain resolution errors are from me having the shake not attached to the network (LAN/WLAN disconnected).
This is the last image produced: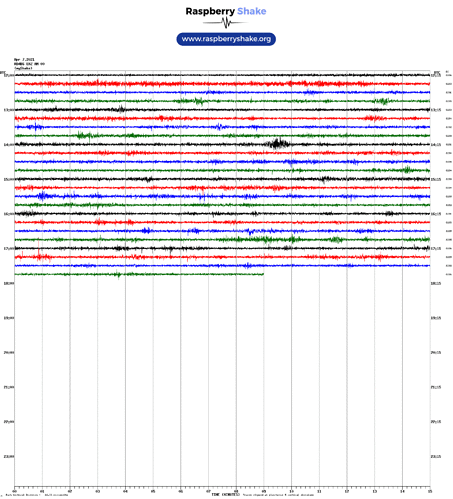 The device boots up, no problem there, SSH in and have no issue browsing about. The issues seem to arise at the raspberry shake board.
Whenever the device begins to spool up the GPIO shake board and geophone, this is the result:
2021 098 23:35:13: Setting Serial Port Name: HW Revision: a22082 / Port Name: /dev/ttyS0
2021 098 23:35:29: Unable to read Firmware version number off of Serial Port /dev/ttyS0 after trying for 15 seconds, cannot continue!
2021 098 23:35:29: Is the Pi computer connected to the Raspberry Shake Board?  Please confirm and try again.

Checking /dev/, this is what I have listed for ttyS0:
root@seismo:/dev# ls -la|grep ser
lrwxrwxrwx  1 root root           7 Apr  9 03:53 serial0 -> ttyAMA0
lrwxrwxrwx  1 root root           5 Apr  9 03:53 serial1 -> ttyS0