I've just received and set up my RS Boom - AM.RECF1. Curiously when I first set it up is appeared in both the app as well as dataview.raspberryshake.org and Stationview - but no data was shown - timeouts were reported. It has since disappeared from both views and the app just gets timeouts on the realtime data.
I have confirmed there is data being generated locally (by looking at the local Helicorder displays) and when I log into the device I can ping and do connections to raspberryshakedata.com (ports 55555 and 55556)
The inbuilt web interface seems to suggest all connected and well too per the screenshot;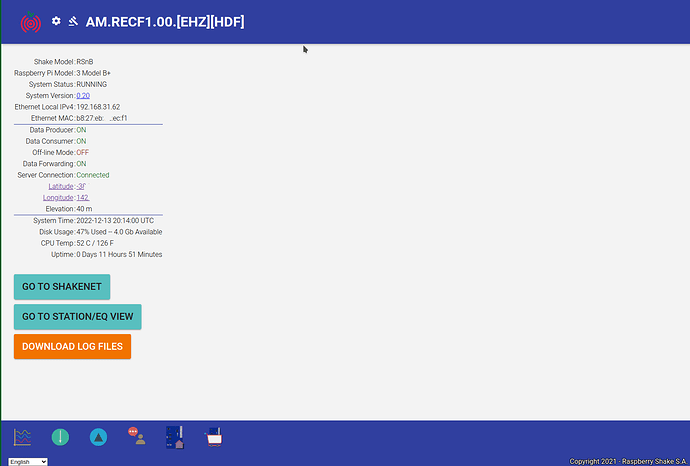 The only thing I can add is that to get a static IP working I needed to edit /etc/dhcpcd.conf manually to add a router information. Relevant section is;
interface eth0
static ip_address=192.168.31.62/24
static routers=192.168.31.1
static domain_name_servers=192.168.31.6
Feels like I'm missing something or maybe just need to be patient ?
Thanks in advance for all the great work on the Shake hardware/software and backend systems!
Cheers,
Hugh
/* Edited to clarify that the local web interface seems to suggest all ok */